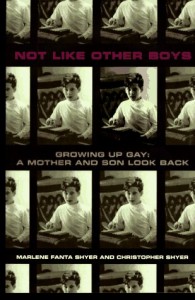 NOT LIKE OTHER BOYS — Growing Up Gay: A Mother and Son Look Back
co-authored with son Christopher Shyer
"
W
hat makes their story ultimately heroic… a reminder of all those who struggle against the stigma of who they are." — New YorK Times Book Review
I
s it possible for a mother to know that her son will grow up to be gay when he is only five years old? Here's an excerpt:
"I've been worried about Chris," I told his kindergarten teacher.
"In what way?"
Saying it aloud for the first time took courage. "I'm afraid he may grow up to be homosexual."
If she thought I was deranged, she gave no sign and took me seriously. I explained that I had not a bit of solid evidence, but was just drifting in on one of those ephemeral mother-hunches.

To Order